GPS Navigation for Professional Truck - Navion X7 Truck PRO Smart
The Navion X7 Truck PRO Smart GPS navigation system is a 7-inch portable device with a capacitive touchscreen that allows you to pinch the screen with two fingers. It features WiFi and Bluetooth for downloading apps. Its database of companies, warehouses, and loading zones allows for adjusting the vehicle's dimensions and ADR, helping drivers of large vehicles to find the best route and avoid obstacles. Additionally, it provides information on parking and rest areas along the route to improve efficiency and save time and money in driving. It also comes with a 2-year warranty and free map updates for the entire life of the device. NavionTruck offers spare parts after the warranty period and for at least 10 years.
WARRANTY up to 3 years. Enjoy a USA WARRANTY with unlimited services.

WE PLANT A TREE WITH YOUR NAME FOR EACH PRODUCT. Every time you buy one or more NavionTruck products, we plant a tree for you.
A leap into tomorrow, faster, smarter, more PRO
Navion X7 Truck PRO Smart is our featured 7-inch navigator, preferred by hundreds of customers for its essential advantages for truck drivers. Its ultra-bright 7-inch capacitive touch screen allows you to zoom in and out of the image with the popular pinch gesture. Additionally, this device features an intelligent operating system that allows you to download and use applications during your rest periods.

But the highlight is its GPS navigation software, which includes lifetime updatable maps, alternative routes, radar alerts, points of interest, search by coordinates and zip codes, as well as an advanced route manager. With all these features, Navion X7 Truck PRO Smart provides you with a complete and efficient navigation experience, specifically tailored to your needs as a truck driver. Don't miss the opportunity to enjoy this powerful device and improve your road experience.
Artificial intelligence
Access a personalized 24/7 customer service directly from your GPS navigator thanks to our advanced artificial intelligence technology. Get all your questions answered quickly and efficiently, no matter the time or place you're in. Our intelligent system is designed to provide you with an uninterrupted customer service experience, giving you the assistance you need in real-time. Trust our artificial intelligence platform to provide you with accurate answers and the personalized support you deserve at any time of the day.
Speed cameras
Avoid speeding fines and stay informed about areas of the road with high mobile speed camera presence. With NavionTruck, forget about fines for fixed speed cameras. Our fully legal speed camera database has helped hundreds of customers avoid fines and save thousands of dollars. Set up your NavionTruck GPS navigator to receive audible or spoken alerts and drive with peace of mind and safety.
Points of interest
During the Covid-19 pandemic, we dedicated hundreds of hours to expanding our database of service points for truckers, restaurants, truck parking, and much more. Our database has gone viral and we have decided to take it one step further. Now, we offer a wide selection of points of interest to make your trip even easier and more efficient. You will find thousands of businesses, loading zones, warehouses, markets, weigh stations, tolls, supermarkets, ports, car dealerships, recreational areas, campgrounds, beaches, and more. All of these places are available in the database of your NavionTruck GPS navigator.
Alternative routes
With NavionTruck, you have the freedom to choose the most suitable route for your needs from multiple options. You can explore different routes and select the one that best fits your specific preferences and requirements. Additionally, you have the flexibility to modify and adjust segments of the route according to your whim. Do you prefer to avoid a congested area? Do you want to take a scenic route? With NavionTruck, you can customize your journey and take full control of your route. Enjoy a more comfortable and efficient trip, tailored to your driving needs and preferences.
Waypoints
With NavionTruck, you can plan your route ahead of time and organize all your destinations in a personalized way. Whether you have multiple stops on your journey or simply want to arrive at specific places in a certain order, NavionTruck allows you to select and organize your destinations according to your individual preferences. You can establish the order in which you want to visit places, consider factors such as distance, estimated arrival time, and personal preferences. This way, you can optimize your route and enjoy a more efficient and enjoyable trip. Plan your stops, discover new places, and make the most of your driving experience with NavionTruck.
Free map updates
Download free map updates for the life of your device. Download maps through our Wizard synchronization tool for Windows PC computers, download it HERE
Depending on the country of the continent of your purchase, you will receive preloaded maps, receive your GPS navigator and start using it without having to download anything after receiving it, in addition, at the time of purchase the navigator is already updated with the latest version of maps.
These are the maps you can download SEE
Vehicle Dimensions Configuration
Customize your vehicle settings in NavionTruck and we'll guide you on the most suitable route for you. Enter the dimensions of your vehicle, such as height, width, length, number of axles, trailers, and whether you transport hazardous goods. This way, you'll avoid unpleasant surprises like low bridges or narrow streets, and ensure a safe and hassle-free drive.

With the precise configuration of your vehicle, our GPS navigation system will provide you with routes specifically designed to fit your needs and characteristics. Enjoy the peace of mind of knowing that you're following the most appropriate route for your vehicle, avoiding obstacles and ensuring an efficient journey.
Restrictions
Avoid restrictions and limitations for your type of vehicle in the area where you will be driving. Maintain full control of your route and avoid unnecessary inconveniences on your trip.
Maximum length restrictions

Maximum weight restrictions

Height restrictions

Dangerous Goods Restrictions

Tunnel restrictions
Customizable map colors
Choose from a wide range of colors to customize the roads and elevations on the map to your liking. You can select your favorite color for both day and night, allowing you to have a more visually appealing and personalized experience. With dozens of color options available, you can create a unique and customized map that reflects your style and provides a more enjoyable and easy-to-follow navigation experience. Whether you prefer vibrant or subtle tones, you will find the perfect combination to satisfy your tastes and needs.
Route itinerary
Get detailed information about your route before starting your journey and customize it according to your needs and preferences. With our system, you can obtain accurate data on the duration of the trip, the distance to be covered, the points of interest along the way, and any special restrictions or conditions that you should be aware of. In addition, you can make modifications to the route, such as adding additional stops, avoiding congested areas, or selecting scenic roads. This way, you will have total control over your itinerary and can adapt it to your demands. With our easy-to-use tool, planning and editing your route has never been so simple and convenient.
Search modes
Enjoy a versatile search experience with NavionTruck by choosing from multiple search modes. You can search for destinations using different criteria, such as address, zip code, coordinates, or NavionTruck's extensive database of over 1 million Points of Interest (POIs). Whether you need to find a specific address, locate a zip code, or search for a nearby point of interest, our navigation system is designed to provide you with options and flexibility. With just a few clicks, you'll be able to quickly find the information you need and plan your route efficiently. Trust NavionTruck to provide you with accurate and comprehensive search results tailored to your individual preferences.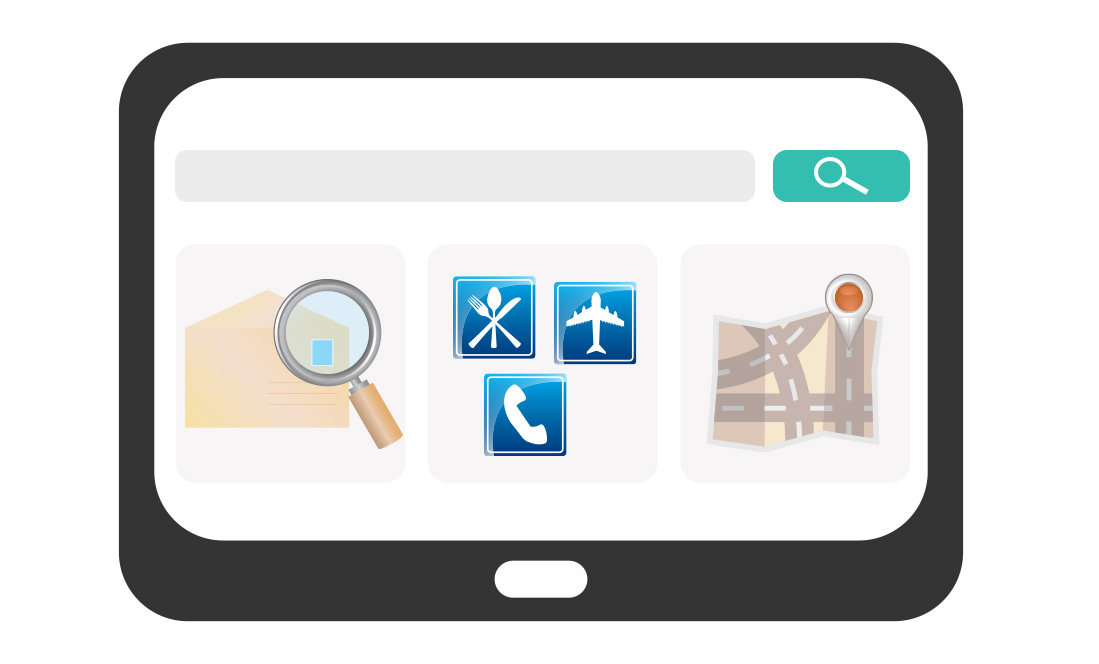 Route types
With NavionTruck, you can select from different route types to tailor your driving experience to your specific needs. You can choose an economical route, which will help you minimize fuel and toll costs by showing more efficient options in terms of consumption. If you're looking to get to your destination quickly, you can opt for a fast route, which prioritizes main roads and avoids traffic congestion. For those who prefer shorter distances, NavionTruck also offers the option of a short route, which will guide you through more direct paths. Additionally, if you're looking for a simpler and easier-to-follow route, you can choose the easy route option, which will avoid complications such as complicated turns or confusing intersections. Whatever your preference, NavionTruck offers you the flexibility to customize your route and optimize your driving experience.
Multi-vehicle navigation system
With NavionTruck, you have the flexibility to use the GPS navigation system in your second vehicle when you go on vacation. You can easily access the navigation settings and select from different transport profiles to tailor the route to your specific needs. If you are driving a car, you can choose the car profile to receive precise and optimized directions for passenger vehicles. If you prefer to walk or bike, you can select the pedestrian or bicycle profile, respectively, to get routes suitable for these modes of transportation. In addition, NavionTruck also offers professional profiles such as Taxi, Bus, and Emergency Vehicle, which allow you to access specific features tailored to those professions. Whatever type of vehicle you are using, NavionTruck provides you with versatile and personalized navigation options.
Languages
Our GPS navigators are available in a wide variety of languages, so you can enjoy a navigation experience in your preferred language. The navigation menu is available in the following languages: Malay, Indonesian, Turkish, Arabic, Spanish, Catalan, German, Dutch, French, English, Italian, Czech, Danish, Estonian, Croatian, Latvian, Lithuanian, Hungarian, Norwegian, Polish, Portuguese, Romanian, Slovak, Serbian, Finnish, Swedish, Flemish, Greek, Bulgarian, and Russian. With this wide selection of languages, you can configure the navigation menu according to your preferences and use the device easily and comfortably in your native language or the language that is most convenient for you.

In addition, we also offer the option to choose the navigation voice language. You can listen to navigation instructions in the language of your choice, which will allow you to receive clear and precise directions during your journey. The available voice languages include: Spanish, Catalan, German, Dutch, French, English, Italian, Czech, Danish, Estonian, Croatian, Latvian, Lithuanian, Hungarian, Norwegian, Polish, Portuguese, Romanian, Slovak, Serbian, Finnish, Swedish, Flemish, Greek, Bulgarian, and Russian.

With this wide variety of languages available in both the navigation menu and the navigation voice, you can enjoy a more comfortable and personalized driving experience, clearly understanding the directions and ensuring that you arrive at your destination safely and without any setbacks.
All maps of the United States, Canada and Mexico Preloaded and updated
With comprehensive coverage of the United States, Canada, and Mexico, our GPS navigators are ideal for truckers who need detailed and up-to-date information about businesses throughout the region. In addition to having street-level maps for cities and towns, our GPS navigators have complete information about businesses to help drivers find the best route and maximize their time on the road. Whether you need to navigate through an unfamiliar city or find the best route for your cargo, our GPS navigators are the perfect choice for truckers who need accurate and reliable information at all times.
Take it with Television
Enjoy television without the need for an internet connection
AND NO MONTHLY FEES
The Navion DVB-T TV antenna connects to the device and can receive television channels just like at home. You only need a good location and tune the channels depending on the country you are in. Additionally, our device allows for an amplifier to be added for a more stable connection and greater distance coverage.
Product Accessories
Suction cup support
High support for the glass and prevent falls.
12/24v USB charger
High durability and efficiency with double charging input.
Micro SD memory card
The card is accompanied by an SD adapter to be inserted into the PC and to be able to update the maps.
Data cable
High-quality charging and transmission cable in the shape of an elbow to avoid broken connections.
User manual
Multilanguage user manual.
2 year warranty
Enjoy the TOTAL guarantee for 2 years. Guarantee that includes round trip shipping to our SAT.
Data sheet
MM measurements:

184x114x16

Sistema Operativo:

AOSP Smart Truck

Processor:

Cores x4 ARM Cortex-A53 @ 1.3Ghz

RAM:

1024 MB

ROM:

16GB

Micro SD:

32GB

WiFi:

YES

Bluetooth:

YES

TV:

Compatible with TV antenna (Navion DVB-T)

Transmisor FM:

SI

Battery duration:

Hasta 2 horas y media de autonomia con GPS conectado

Weight:

303gr

Plug:

MINI-USB

Toma Auriculares:

SI

Screen Size:

7 inches

Screen resolution:

800x480

Dashcam

NO

Parking Camera

Compatible with recording and viewing cameras (Navion Blackbox Remote)

Screen Type:

capacitive

Text editor:

YES

Text Player:

YES

MP3:

YES

Image Viewer:

YES

MP4:

YES

You can download maps from all over the world:

YES

Preloaded Maps:

United States, Mexico and Canada